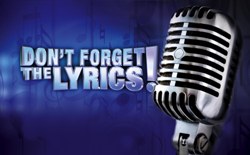 On the 29th Wednesday 2008, I went down to Medicorp (Waiz and I walked up a damn steep and long slope to finally get to the studio). Cos Mark Tay was on the game show 'Don't forget the lyrics' hosted by Gurmit Singh. Most probably it's going to be aired only after New Year cos the host said something like "Happy New Year" in the opening.
Anyway, I was very confident that Mark would make it to at least $250K but during the first song, it then hit me that it's super difficult to get through even the FIRST SONG! But that's me, know nuts about lyrics cos I don't listen to much songs. Unlike Mark Tay, who listens to loads of music.
It was nerve wrecking for Mark-supporter, amidst the intermittent and irritating, "come on cheer! clap your hands! I need more energy from you audience!", by the floor Ra-Ra-Team. Anyways, Mark was cool up there, interacting with Grumit as though they gave each other wedgies and inverted each others' school bags back in the day.
By the second song, Mark already used his lifeline where out of the 4 words that you'd have to choose, they reveal 2 words of your choice. At first I thought, WHAT ON EARTH ARE YOU CRAZY!! IT'S ONLY LIKE THE 2ND SONG!, cos I thought he hit the 4 words DEAD ON.. Only after he used the lifeline, i was like "damn heng sia…good thing you used the lifeline" as the difference between the word that he chose "I'LL" and the actual word "I" was too close for the typical Singaporean, which we usually interchange during coffeeshop talk. Yet for this game show, it had to be spot on, else it's Go Home! You Suck! for you.
He got the $$$$$ and I'm very happy for him, cos music has always been his life. Yet I'm disappointed.. with Leon Subur…
He let Mark down.. He was the lifeline that wasn't the lifeline…
And to think that he sang the song before to us. Somewhere deep in the jungle of the song, you'd think he would still be confident and sure of the lyrics. WRONG! He's B-L-A-N-K, duh?, Err, What?, Maybe… Moron.
When interrogated after, he said
…I usually sing the first 2 lines of the song, and you guys shut me up after…
also said
…it was too deep into the song, I don't remember till that deep…
So because of that, Mark had to be satisfied with the money and not what he could have got if Leon didn't mess up. So guys, Leon owes Mark cash. Remind him of it till the grave.
Mark seems quite happy with the amount, and all the supporter were happy for him too. Those present were, Paul (Mark's bro), Karen (Paul's Mrs), Elsie, Christina, Dennis, Mark (other 2007 Female's 50 gorgeous people one), Chris-Very-Serious-Han, Waiz and me.
There's a catch: ONLY once the show is aired, will the $$$ be wired into Mark's offshore Swiss account. Till then, don't ask him to lend you any!
And what if his show doesn't get aired? He will get a grand total of zorro's brother - Zero!
Let's pray and hope together that it'll get aired, so that drinks are on him for at least 1 month!